From Cayman to the world, Canada corners global cannabis market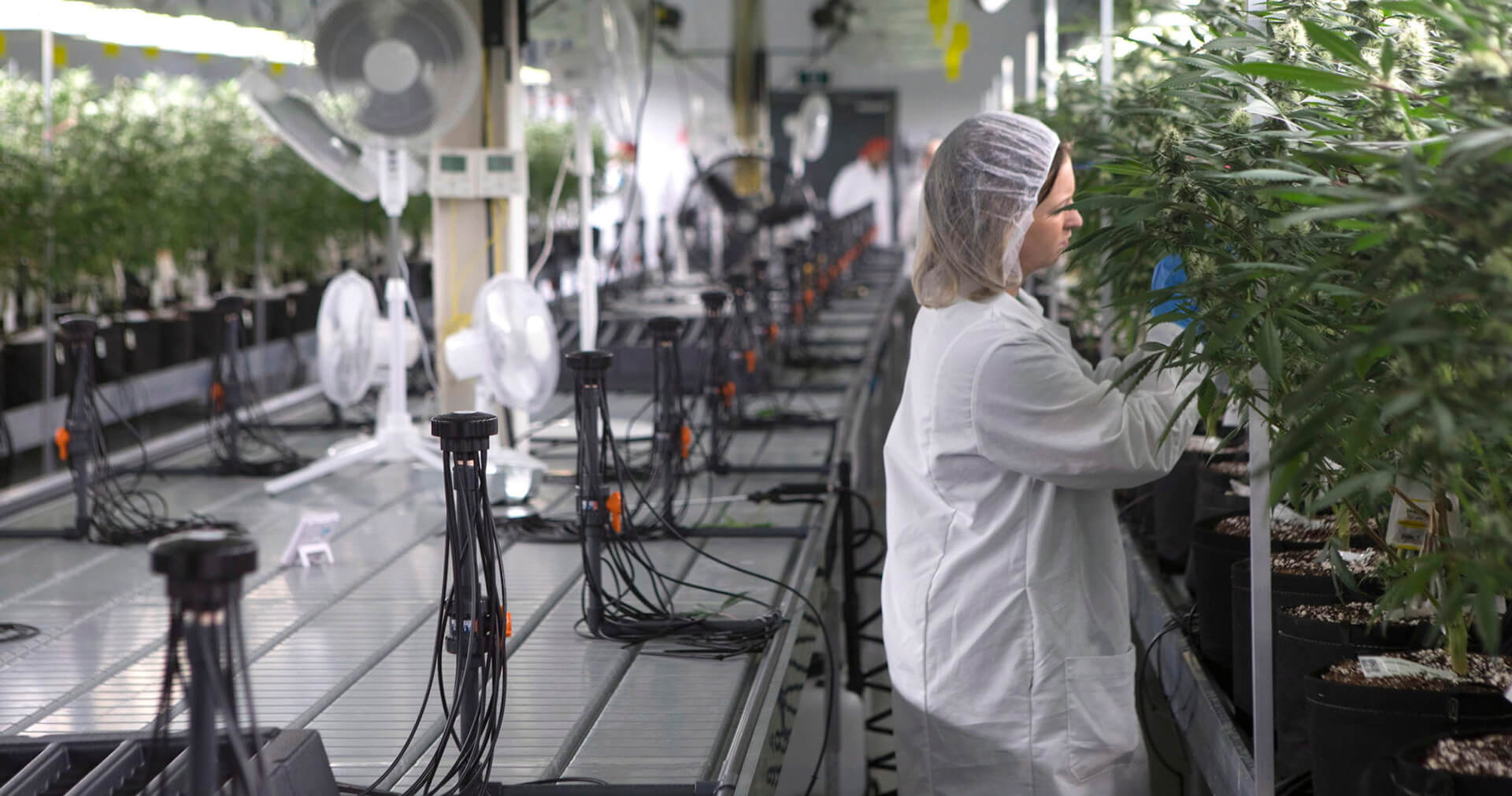 As published by the Cayman Islands Journal
In May 2017, a George Town pharmacy housed in CTMH Doctors Hospital received a shipment that just a year prior would have been unthinkable.
That month, Professional Pharmacy Services, via Caribbean Medical Distributors Ltd., legally purchased 12.96 liters (3.42 U.S. gallons) of cannabis oils from Canada's CanniMed Therapeutics.
While the oils were not Cayman's first such import – other oils arrived the previous month from Jamaica – the shipment marked a shift in dynamic in the cannabis trade between North America and the Caribbean. The sale was a first in the region for Canada's incipient cannabis export industry.
As marijuana regulations in the region relax and more jurisdictions move to legalize the substance, Canada sits poised to dominate a now legal and increasingly global industry. A clandestine trade not long ago, legal cannabis is now one of Canada's fastest-growing industries and one of the hottest commodities on the Toronto Stock Exchange.
Aurora Cannabis, 96-percent owner of CanniMed's shares as of March 28, reported a market capitalization of CA$4.53 billion (CI$2.88 billion) on the TSE as of the end of March. The company's Chief Corporate Officer Cam Battley places the company's market value between CA$5.5-6 billion.
The only other Canadian company to export cannabis to the Cayman Islands, Cronos Group, became the first marijuana business to be listed on Nasdaq, with trading of the company's common shares opening on the New York-based exchange on Feb. 27.
A budding industry
Cayman was one of nine countries – and the only Caribbean nation – to import Canadian cannabis oils in 2017, according to Health Canada data.
Of the 435 liters of cannabis oils Canada exported that year, the Cayman Islands received 26.52 liters.
Only Australia (158.12 liters), Germany (183.38 liters) and Croatia (40.05 liters) imported more Canadian oils that year than the Cayman Islands. Other importers included New Zealand, Chile, Cyprus, Brazil and Argentina.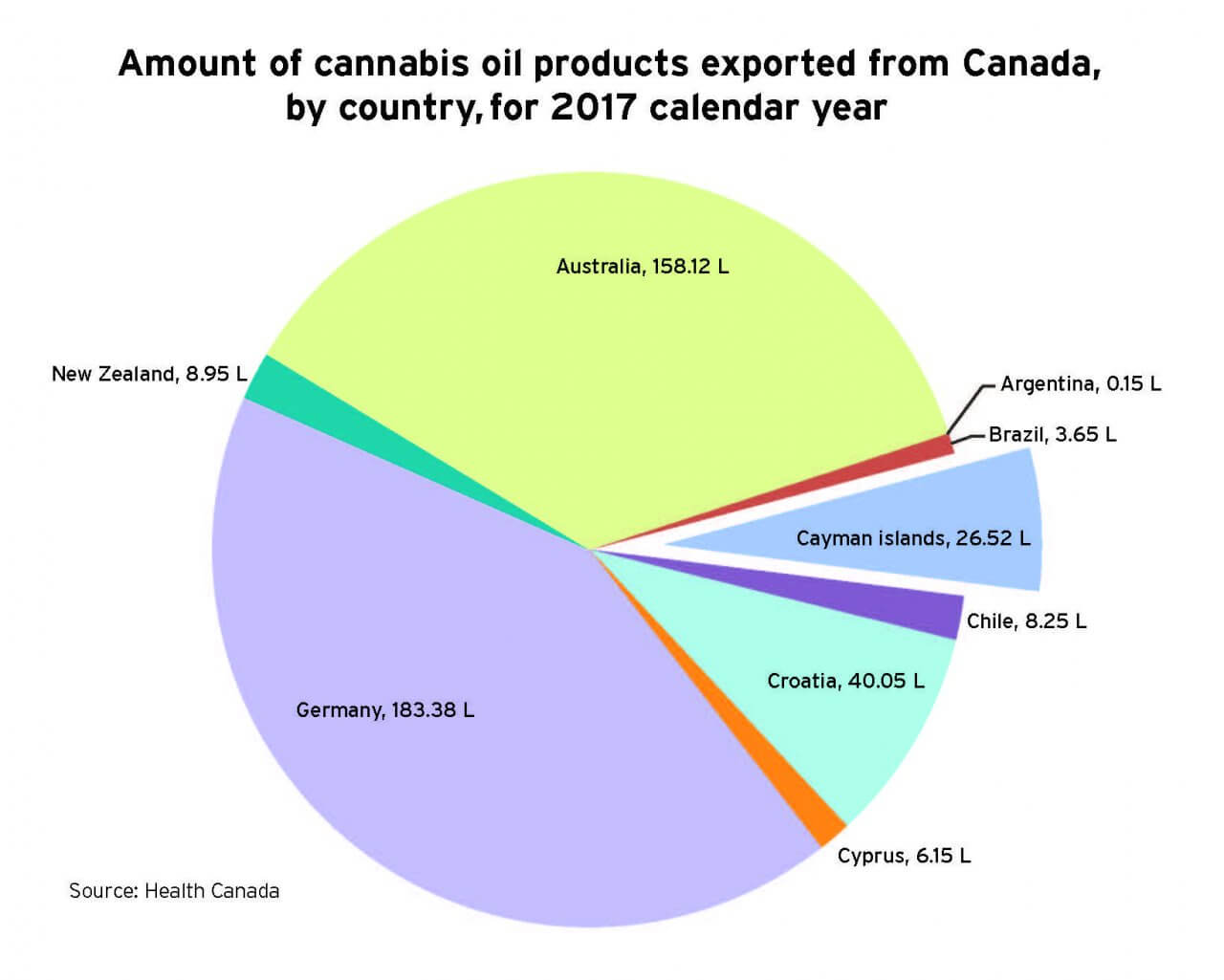 Canada also exported 522.46 kilograms of dried cannabis in 2017 to Germany, Israel, Australia and the Czech Republic. That represents a 10-fold increase in dried cannabis exports from Canada in just one year. In 2016, 44.8 kilograms were exported. No dried cannabis was exported in 2015.
Ninety-nine export permits were issued in 2017 by Health Canada for medical or scientific cannabis oil products. For dried cannabis, 47 such permits were issued.
Much of the excitement around the cannabis industry in Canada stems from the export business, according to analyst Ken Lester of Lester Asset Management and McGill University.
"In terms of the business side, people are eyeing cannabis stocks and buying on hopes there is an export business," he said.
"If you ask somebody who is buying cannabis stock, they say they don't care about Canada. They care about the world."
That is the attitude taken on by Aurora Cannabis, one of the largest global cannabis traders.
Regarding the potential for Canada's legal marijuana exports, CCO Cam Battley speaks with unfettered confidence. He sees no real competitors to Canada's cannabis trade.
Cam Battley, Aurora Cannabis CCO
Australia is the only other nation with publicly traded cannabis shares. While Australians are now eyeing an international medical marijuana trade of their own, Battley said Canada's industry has a enjoyed a head start, with more advanced legislation in place and established support from the federal government.
"Canada is hands down the world leader in medical cannabis," Battley told The Journal.
He described a rapid evolution in global attitudes and laws regarding cannabis that has enabled Aurora to partner with investors all over the world. In addition to sales in the Cayman Islands, the company also supplies or operates in Germany, Italy, Denmark, Australia and South Africa.
"What we've seen broadly, around the world, is a very rapid change in social attitudes and destigmatization of cannabis for medical purposes. It's happening very, very quickly. What we're seeing the Caymans and elsewhere in the Caribbean is consistent with what we're seeing in Europe, Latin America, Australia, literally around the world," Battley said.
"What that means for a company like Aurora, which has operations in multiple countries, is we're moving very, very quickly to expand our capacity and to establish distribution arrangements, and in some cases, production capacity in multiple jurisdictions around the world."
Caribbean trade and international investment
While the international interest in purchasing cannabis is immense – Battley estimates the global medical cannabis market could mature to a CA$180-billion a year industry in coming years – certain legal criteria must be in place.
Global Affairs Canada, a government department that promotes trade, explained: "Canada only exports cannabis and cannabis products for medical or scientific purposes. The export of cannabis or cannabis products for medical or scientific purposes is consistent with Canada's obligations under the United Nations drug control conventions."
In other words, to import Canadian cannabis, local laws must also be in place to allow the use of medical marijuana. The Cayman Islands became one of the first countries in the Caribbean to permit medical marijuana in October 2016, when the Legislative Assembly passed a limited legalization. An amendment to the Misuse of Drugs Act now allows cannabis oils or tinctures for medical or therapeutic purposes. Production of such products is not permitted in the Cayman Islands, so any legal cannabis must be imported.
Medical cannabis in Cayman must be prescribed through a doctor and imported through a pharmacy with approval of the Health Services Authority.
While the islands have a small population of around 60,000, Battley said it was worthwhile to export to Cayman if patients seek the product.
"The opportunity to meet patients needs in Cayman or any other country is something we are eager to do," Battley said.
"We have a tremendous sense of mission."
Canadian industry ties to the Caribbean have been at times controversial, however.
Battley described a patriotic pride in Canada toward its marijuana industry – a pride that demands high standards and attracts public scrutiny.
In January, investigative reporting by Le Journal de Montreal tied 40 percent of the nation's licensed cannabis producers to offshore funds in the Cayman Islands, Bahamas, Belize and Luxembourg, among other jurisdictions.
Among the "offshore funds" described by the publication were CA$32.5 million attached to Aurora in the Cayman Islands. Other Canadian companies tied to Cayman Islands funding were Supreme Cannabis Corporation (CA$10.5 million), Cannabis Wheaton Income Corp. (CA$20.5 million), Hydropothecary (CA$15 million), Golden Leaf Holding (CA$5.7 million) and Invictus MD (CA$14.13 million), among others.
In the wake of the publication, Health Canada moved to establish stricter reporting regulations in the industry. In March, the Globe and Mail reported that federal authorities were seeking more information about cannabis industry investors. To prevent organized crime, government expanded its powers to obtain up-to-date financial information from licensed producers.
Battley said there is a public misunderstanding about international investment and offshore centers.
"I think perhaps what some people don't understand is that a lot of international funds and hedge funds are based in the Cayman Islands and other international jurisdictions," he said.
"International funds are commonly based offshore. I think there is perhaps a lack of complete understanding on that particular issue."
Given the liquidity of Aurora Cannabis stocks, Battley said it is difficult to pinpoint shareholders from day to day.
"No public company knows who all it's investor are on a day-to-day basis because we trade constantly. … Aurora is probably the most liquid stock in Canada. … People are constantly buying and selling," he said.
"We can never say with certainty which jurisdiction owns our shares on a given day."
Battley added that Aurora Cannabis does not work directly with offshore centers.
"Some hedge funds that invest in various industries like cannabis … are based offshore."
As publicly traded companies, Canadian producers have not faced as much difficulty banking domestically as U.S. producers, he said, who are limited by the federal ban on marijuana. This has forced many in the U.S. to work on a cash basis or to partner with credit unions.
Canadian cannabis companies worked largely with credit unions until recently, as well, Battley added. But he described a change in attitudes that has opened avenues.
In January, the Bank of Montreal became the first major bank to lead equity financing for a cannabis company.
"The dam is breaking right now," Battley said.
The flood waters are now flowing in, and Battley described eager investors and widespread international interest.
"The pace of this sector is like nothing I've ever seen in my career," he said, alluding to his previous work in the pharmaceutical industry.
"We are literally inventing a brand new industry in real time."
Medical cannabis is now mainstream, Battley said, and trade will continue to expand rapidly, alongside legislation.
---